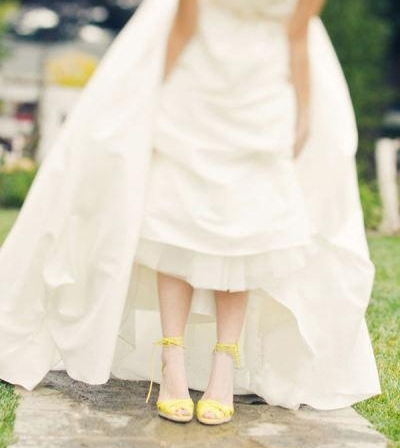 [This site - shoes and life] wedding photos to choose wedding shoes 1, high heels, the height of the heel should be appropriate
MM must pay attention to the selection of high heels, the height of the heel and the groom's height are closely linked, we must choose to make the bride, the groom looks like the height. In addition, because wedding dresses in studios are generally designed according to the standard body model, so MM wants to highlight its own temperament, you must match with a pair of beautiful high-heeled shoes. However, the heel does not have to be too high. It is necessary to consider its own conditions and choose the appropriate height according to its usual habits. MM can't choose to be too tall and slender because he wants to make himself look more slender. Otherwise, not only will he be tired when they are on the outside, but if they are stomping, they will lose out. If MM usually wears flat shoes and does not use high heels, then you can consider preparing a pair of dwarfs and heels. The heel should be thicker, so that the center of gravity is stable and there will be no uncomfortable feeling. Wear more walking practice. Therefore, in summary, Xiao Bian felt that the best 3-5 cm, so comfortable and beautiful.
Wedding photograph selection wedding shoes 2, shoes color
The color of the shoes, Xiao Bian think it must be coordinated with the style of marriage, a lot of MM in order to facilitate the match, select the three basic colors of black and white, but these three colors are not very colorful, and now the studio wedding dress is no longer only white, So the color of the shoes also have a variety of choices: gold, silver, purple, yellow, etc. can choose Oh. If you take a Western-style wedding photo, the color of the wedding dress must be white, and the color of the dress must be lighter. So the shoes can be silver, beige, ivory, milky, pearl, shiny pink, these are very nice. Now that there are Western-style scenes in the studio, it is necessary to prepare more than one pair of colors. If the wedding photos feature guest appearances in Chinese, a pair of big red embroidered shoes can be set slightly, but Chinese weddings rarely have a full body, which means they may not reach their feet.
Wedding photographs selected wedding shoes 3, shoes on the embellishment
If the dress is gorgeous, then the best shoes with a shiny gem embellishment, but the gemstones do not have to be too tedious, simple style of the atmosphere is enough to make the bride look gorgeous and noble. If the wedding dress is more complicated, then the shoes with bright diamonds can be installed, so that you can show the bride's gorgeous temperament. If it is a simple wedding dress, in addition to rhinestones shoes, you can also match with silk, pearls and so on.
Wedding photograph selection wedding shoes 4, sports shoes with wedding dress
Now many of the MM to pursue personality often make their own wedding style more distinctive, that pretty bride wearing a short tube top wedding dress, Tutu skirt, trailing, then you need a pair of appropriate sports shoes with, but to Select the color of the bright points, red, green, blue, white, black are the best colors. A short wedding dress can be paired with red and green sneakers. If it is trailing, a pair of black sneakers is absolutely full of personality. Short tutu with high heels look too ordinary, if coupled with a pair of red and green or blue sports shoes will be another pretty style Oh. (Cooperative Media: Garment Collocation)
· The old shoes at home are like this to transform big spikes
· Old shoes don't stupidly throw away so that the shoes "open"
Put a physical insurance on your shoes
· How to clean the matte surface of the shoes?
· Breathable, antibacterial, deodorizing socks with it to avoid off shoes
·Sports shoes's little tail actually has these 3 functions you certainly don't
·High-heeled shoes audio sound? 4 coups to ease you learn a few
·How to choose shoes during pregnancy? Flat shoes are not safe
What should I do if my shoes become moldy
·Wearing these shoes in the summer will hurt you
Siro spinning is two rovings are fed to drafting at the same time & twisted together as a double yarn.
Benefits of Siro Compact Spun:
Low hairiness, low thin and thick neps, smooth & good abrasion resistance, good wear resistance,
better fiber orientations, fewer joints, fewer variations in the uniformity in the yarn.
Siro Compact Spun
Siro Compact Spun, Siro Spun,Siro Spun Yarn,Siro Spun Process, Cotton Twill Siro Spun Fabric
SHANDONG XINGTENG INTERNATIONAL TRADE CO., LTD. , https://www.woolfabric.be