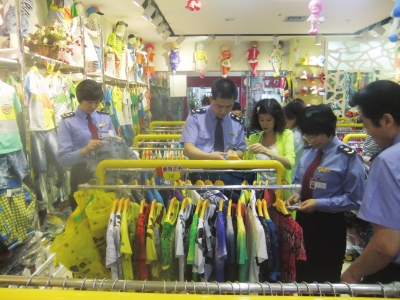 The Quality Supervision Bureau of Gansu Province announced on May 23 that the results of special provincial supervision checks on the quality of six types of products, including children's clothing, children's toys, children's furniture, children's washing products, infant diapers, and sanitary napkins, distributed in the circulation field in Lanzhou and other places: Of the 250 batches of women's and children's products distributed to 190 circulation companies, the physical product qualification rate was 89.2%. Among them, infants and young children diapers, sanitary napkins (including sanitary pads), children's furniture pass rate reached 100%, children's detergents pass rate of 94.3%, children's toys pass rate of 87.5%, children's clothing pass rate of 85.7%, the overall quality Basically stable.
According to reports, 140 batches of children's clothing distributed by 107 distribution companies in seven cities including Lanzhou, Baiyin, Dingxi, Tianshui, Zhangye, Jiuquan, and Qingyang were spot-checked, and the physical product qualification rate was 85.7%. Sampling results of children's clothing showed that the formaldehyde content and PH index involving health and safety were all qualified in this spot check. The unqualified items for children's clothing are still concentrated on the logo (use instructions) and fiber content indicators, which is the most prominent issue in children's clothing in recent years.
Among the 40 batches of children's toys distributed by 33 circulation companies in Lanzhou, Baiyin, Dingxi and Tianshui, the qualified rate of product sampling inspection was 87.5%, among which: the qualification rate of plush fabric toys was 71.4%; plastics The pass rate of toys is 94.4%; all wooden toys are qualified. According to "Guangdong Province's 2nd quarter of 2013, implementation of special supervision and spot checks of toy products" and related product standards, the unqualified products that were spotted were mainly plastic "squeeze toys, rattles and similar toys" indicators that did not meet the standard requirements. . The "tension test" indicator in plush toys does not meet the standard requirements. Toy plastic bags or plastic film indicators do not meet the standard requirements.
20 batches of children's wooden furniture distributed by 20 distribution companies in Lanzhou were all qualified.
The Quality Supervision Bureau of Gansu Province requested that the production and distribution companies that failed the inspection and inspection of the products be dealt with in accordance with the law, and that the distributors of substandard products of the general quality projects should be ordered to make corrections; there are products that may pose potential risks to human health and personal property damage. And fake and shoddy products must be punished according to law, including the confiscation of substandard products, issued a rectification notice, supervise enterprises to rectify within a time limit, and organize a good acceptance.
Glass Geometric Terrarium Decorations,Modern style and classic elegance can both be yours when you make this lovely artistic glass cube a part of your home or patio.
Glass Geometric Terrarium Decorations
Artdragon Wedding Terrarium,Desktop Hanging,Garden Glass Terrarium,Glass Geometric Terrarium Decorations
Yangzhou Artdragon Deco., Ltd. , https://www.yzartdragon.com