Women, such as underwear, underwear, such as a woman. The ultimate beauty of a woman, mature sexy, atmosphere without losing the style, of course, sexy underwear but also mature and graceful Caixing.
Dan Daiya , a woman said good underwear joined the brand.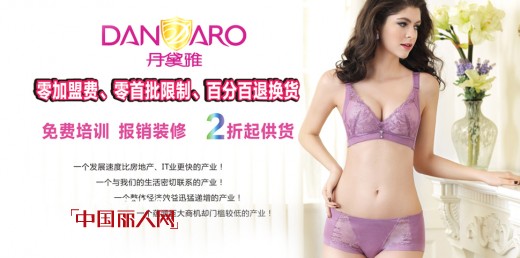 Brand concept articles Dandeya in-depth introduction of more and better international trends, the ultimate noble brand positioning, fashion and elegant beauty to provide the most cutting-edge, the most personality, the most beautiful and beautiful experience. We produce more than just a lingerie, our customers not only harvest a beautiful and healthy, more importantly, a self-confidence and love
Royal Luxury product line (Royalluxury)
Dandelia royal luxury series is demonstrated by the quality and luxury of these two concepts is the royal luxury series of underwear bring us the greatest connotation and temperament, with exquisite design and popular color combination, using the latest international popular elements to create Distinguished model, underwear in the mysterious kingdom tells the ancient legend.
Elegant LADY series (Elegantlady)
Dandelia elegant LADY series with unspoken but rich style design, beautifully presents the tenderness of a woman and elegant refined, simple and simple appearance under the capture of a remarkable feeling, gestures full of intriguing Charming temperament. It feels like silently listening to the Scottish bagpipes, clearing away and refreshing.
Flower Yang Girl Series (Flowergirl)
Dan Daiya flower girl series to Yang healthy, pure, simple as the keynote, the use of more cotton material, giving the skin intimate care, sweet and playful girl revealed a little girl style, the lovely girl charming and fresh gorgeous Sensory integration, completed the hidden princess in the hearts of each flower girl Yang dream.
Charming temptation series (Charmingtemptation)
Dan Dai Ya Mei induced temptation series to the European elegance of the underwear and the charm of the Eastern culture as the perfect combination of design concepts, sexy from the inside out, there are thousands of natural customs, not only from its profound recognition of the female connotation Know, but also from the natural expression of the art of sexy exquisiteness displayed in the product. High-grade material, sexy, stylish, not only for the release of the female slimming, but also the embodiment of the soul and humanity of women, so that women enjoy shyness and charm charming charming style!
Function adjustment series: (functionadjustment)
Dandelia functional adjustment series using silk protein, special space fiber and other high-quality raw materials, three-dimensional three-dimensional cutting, the use of high-tech lock fat stereotypes to promote the body's metabolism at the same time comprehensive and effective control of fat flow, modification of women's perfect curve. Strengthen the locking function of magnetic steel care to avoid the thyroid 1 cm distance, effectively promote blood circulation, activation of breast cells, and can effectively prevent and alleviate various types of breast disease. The use of silk fibroin fiber material far-infrared treatment can also enable women to achieve blood, laxative, ventilation nursed back to health.
Silk soft series: (Silksmooth)
Dante Ya silk series is inspired by the warmth of Denmark legendary love myth interpretation of the different styles, comfortable as release, wonderful dream myth not only catches the eye, it is ignited the flame of passionate fantasy, novelty and bold tailoring in full compliance with women's self-confidence and elegance Body release, gorgeous fashion fabrics to the most romantic interpretation, gentle tenderness, the dream of luxury mythological elements, Hyun color leading the modern fashion goddess.
Jane Shu home series: (JaneShuHomeFurnishing)
Dan Daiya Jane Shu home series of 100% cotton, Lycra, bamboo carbon fiber and other high-quality fabrics, with beautiful, comfortable and generous as the design concept, reflects the harmony between man and clothing beauty, make you feel light while making a lot of happiness A happy family knows how to create a home culture and a love atmosphere.
Beach swimwear series: (Beachswimsuit)
Dandelia swimwear series with soft high-density swimwear fabric, UPF50 + UV resistance, strong resistance to chlorine light, to maintain long-lasting beautiful colors. Bright bright and beautiful eye-catching colors, avant-garde and sexy details of the design, this summer's non-star beach stars.
What are the advantages of brand joining?
Zero franchise fee, retail batch limit, 100% return goods. Free training, reimbursement and decoration. 2 fold supply ...
For more details, please contact us. Contact: Manager Lu Tel:
Custom Shorts,Plus Size Shorts,Soft Running Short Pants,Comfortable Exercise Gym Shorts
Shaoxing Yuecheng Xinan Apparel Co., Ltd. , https://www.xinanapparel.com