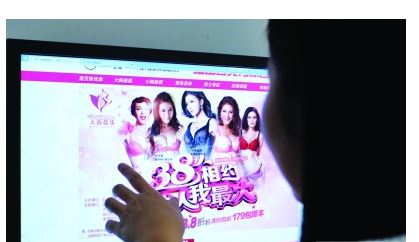 During this year's "Double 11" period, consumers' enthusiasm for online shopping was unprecedentedly high. As the only modern professional market in the Chaozhou region, the sales volume of online stores in Mairian (International) Lingerie City has also been steadily increasing. According to reports, the underwear city currently has more than 180 registered companies in Tmall, Taobao, Alibaba and other dozen e-commerce portals opened more than 2,200 online shops.
As one of the pillar industries in the Chaozhou region, the underwear and home wear industry has an annual sales value of nearly 20 billion yuan. However, as the cost of production factors such as labor, land rents, and raw materials continue to climb, the low-efficiency, low-profit operating model has once faced a survival crisis in the development of the industry. The industry characteristics of long industry chain, complex structure, and small and medium-sized enterprises make the technology R&D, market expansion and model innovation face difficulties and great risks.
It is imperative that the transformation and upgrading aiming at improving the efficiency of economic operations and increasing the added value be made. In October 2012, Meileshun (International) Lingerie City e-commerce platform was launched as an open public service project. It established a global business channel and industrial resource system for enterprises, and provided an effective solution for the industry's internal interaction and cooperation. A year later, it brought together thousands of merchants to attract global merchants. According to the analysis of relevant experts of the China National Textile and Apparel Council, "To complete the transformation of profitable methods, build market channels and brand building, the professional market with perfect service functions through Ms. Levin (International) Lingerie City is undoubtedly the most sensible choice for enterprises. "
"A multi-dimensional, three-dimensional modern public service system centering on the development of the textile industry has basically taken shape." Chen Shuncai, general manager of Ms. Levin (International) Lingerie City, believes that "this has laid a solid foundation for the rapid development of the industry." It is understood that Meilaishun (International) Lingerie City E-commerce Port was selected as one of the six key e-commerce platforms in Shantou City in 2013. With the investment of 18.3 million yuan and the self-operating e-commerce portal at the end of the year, it will surely usher in greater development in the area of ​​e-commerce in the lingerie and home wear industry.
1.before and back with pockets
2.High quality and fashionable design
3.Breathable and Eco-friendly
4.Machine washable
FAQ:
Q: Can you offer free sample?
A: We need charge a little sample fee, but it will be returned if you place order with us. And the Freight is collect by your side.
Q: When's lead time?
A: Normally around 30 days after order confirmed depending on off season or busy season.
Q: Can you offer me a discount?
A: Our policy is the more you order the cheaper, so we will offer you a discount based on your order quantity.
Q: What's about your payment term?
A: If first order, we only accept 20-30%TT down payment, the balance TT/LC at sight. In future, we could accept other payment term, for example 100% TT/LL at sight.
Q: Can we visit your factory?
A: Sure Yes, Very welcome your visiting. Please make an appointment in advance.
Q: Other more question?
A: Welcome to contact us any time.
Children'S Blended Shorts,Comfortable Children'S Blended Shorts,Blended Children Short Pants
Dongguan Zhongtang yu' an Weaving factory , https://www.yuanfabric.com